Order Here
A Full Service Stocking Distributor, Fabricator and Agent for World Class Electrical Insulating Materials
Ordering is Easy! Simply fill out this form and hit submit!
One of our service representatives will follow up with you and keep you appraised as to the status of your order.
Instructions:
Please fill out this form in its entirety and then click "Submit".
Please allow 24 hours for your request to be processed.
A Representative of EMID will contat you before your order is processed.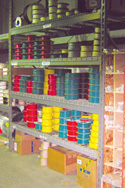 Once this form is submitted to EMID, please allow up to 24 hours for a response. We will contact you as soon as possible. If you need any additional assistance, please contact EMID at 800-837-3313.